Phillies Triumph in Game 1: Harper's Heroics Propel, Braves Under Pressure!
Last night at Truist Park, the excitement was palpable as the National League Division Series kicked off. Harper's Heroics Propel The Philadelphia Phillies, true to their reputation, made an impressive start by claiming Game 1 against the Atlanta Braves, mirroring their success from last year.
In a stark contrast to the previous season's high-scoring chaos, this year's Game 1 was a nail-biting affair dominated by impeccable defense and pitching. The star of the show was none other than Bryce Harper, who showcased his versatility in scoring the first two runs for Philadelphia. His first run was a result of a walk, smart baserunning, and a crucial two-out, two-strike single by Bryson Stott. The second run, however, was a display of sheer power as Harper smashed a solo home run with a staggering exit velocity of 115 mph.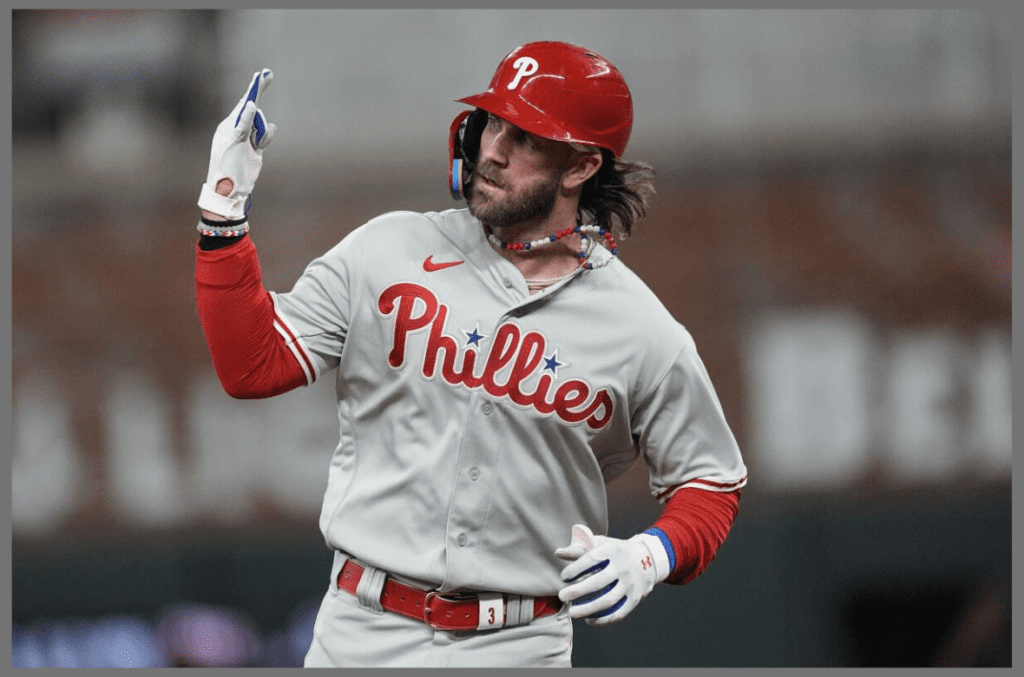 Harper's impact against the Braves is nothing short of remarkable, considering his impressive stats in the last two postseasons: 10 hits out of 18, including three home runs. Alongside Stott, the duo managed to secure four hits out of five, including a homer, and three walks. Unfortunately, the rest of the Phillies struggled, managing only two hits out of 26 attempts.
The Phillies' lefty starter, Ranger Suárez, started strong, facing minimal threats for the first three innings. However, when the Braves posed a challenge in the fourth, manager Rob Thomson swiftly turned to his bullpen. A combination of six relievers, including Jeff Hoffman, Seranthony Domínguez, and Craig Kimbrel, managed to keep the Braves at bay for the rest of the game.
The turning point of the match came in the eighth inning when Trea Turner made a spectacular diving stop, initiating a crucial double play with runners threatening on the corners. This was a game-changing moment, marking the first time in over two years that the Braves were shut out at home, a testament to the Phillies' defensive prowess.
With this victory, the Phillies now lead the series 1-0, a significant advantage considering the historical trend where the team winning Game 1 in a best-of-five series has a 71% chance of clinching the series. As Sunday offers a break, all eyes are now on Game 2, where Philadelphia will rely on their ace, Zack Wheeler, to extend their lead. Meanwhile, the Braves, despite their exceptional 104-win regular season, find themselves in a must-win situation in Game 2 to avoid falling behind 2-0 as the series heads to Citizens Bank Park.