In a thrilling matchup, Ohio State pulled off an incredible last-second win against Notre Dame with a final score of 17-14. The game's defining moment came when Chip Trayanum rushed for a 1-yard touchdown with just one second remaining on the clock, securing the Buckeyes' victory. This dramatic finish marked the first time Ohio State had won a game with less than three seconds to play since 2004 when Mike Nugent kicked a game-winning 55-yard field goal against Marshall.
The first half of the game saw both teams struggling to find the end zone, with the only points coming from a 31-yard field goal by Ohio State's Jayden Fielding just before halftime.
Notable moments included Ohio State's successful fourth-down stop when Notre Dame opted to go for it on 4th-and-1 instead of attempting a field goal. Additionally, TreVeyon Henderson's 61-yard touchdown run in the second half gave the Buckeyes a 10-0 lead.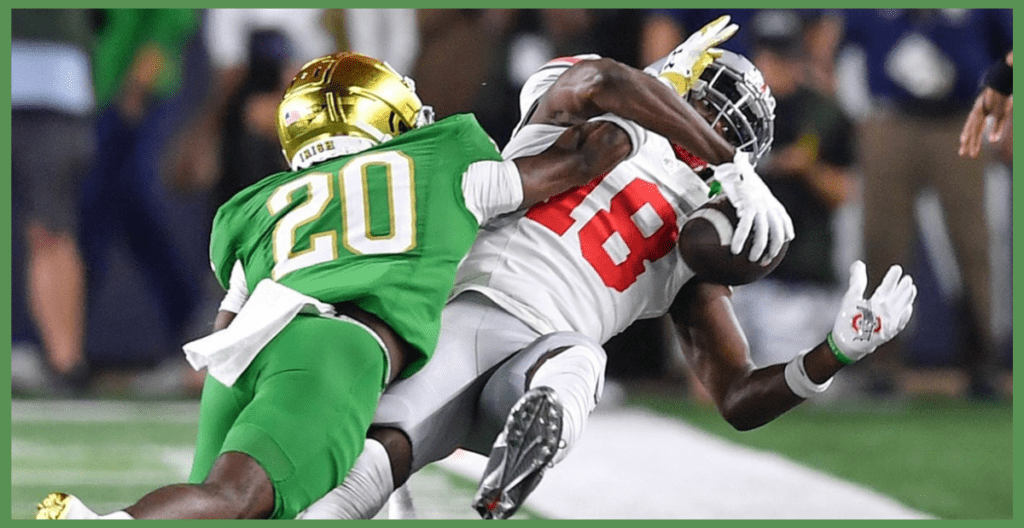 Notre Dame fought back, scoring its first points with a 1-yard Wildcat touchdown run by Gi'Bran Payne. They took the lead with a 2-yard touchdown pass from Sam Hartman to Rico Flores Jr.
In a nail-biting sequence, Ohio State faced 4th-and-1 at the 11-yard line but failed to convert, allowing Notre Dame to maintain their lead.
With just over a minute left, Ohio State had one last opportunity to score. They advanced downfield, with Kyle McCord's crucial pass to Emeka Egbuka and a successful conversion on 4th-and-7. Ohio State reached the red zone with a 19-yard pass from McCord to Marvin Harrison Jr. Finally, with three seconds left, Ohio State decided to run the ball, and Trayanum's 1-yard touchdown sealed the dramatic victory.
This win marked Ohio State's sixth consecutive victory against Notre Dame dating back to 1995. The Buckeyes now head into their bye week with a perfect 4-0 record and will face Maryland at home on October 7 for their fifth game of the season.
Game Notes:
Ohio State traveled with 78 players, with safety Cameron Martinez being the only injured player unavailable for the game.
The Buckeyes scored only three points in the first half, their fewest in a first half since 2018.
Ohio State's first-half shutout was its first since 2021.
This game had the lowest-scoring first half between top-10 teams since 2006.
Marvin Harrison Jr. suffered an apparent ankle injury but returned to the game.
This was Ohio State's first game with fewer than 20 points since 2017.