Arsenal vs Manchester City Victory: Gabriel Martinelli's Heroic Strike Ends 15-Game Drought in Thrilling Showdown!
In a thrilling match that had fans on the edge of their seats, Arsenal emerged victorious against Manchester City, ending a 15-game winless streak against their rivals. The dramatic moment came when substitute Gabriel Martinelli struck the winning goal just minutes before the final whistle, deflecting the ball off City defender Nathan Ake's head and past the keeper Ederson.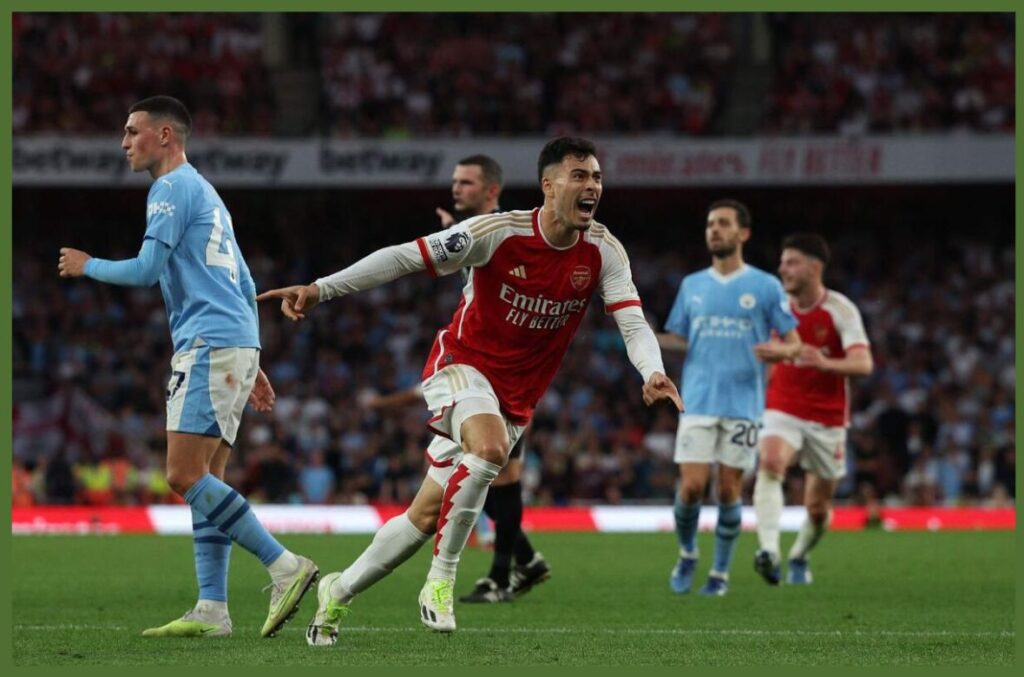 The game started with Arsenal missing their star player Bukayo Saka, breaking his remarkable streak of 87 consecutive appearances. Initially, Arsenal seemed sluggish, with City having the better chances. Arsenal's Declan Rice made a crucial clearance off the line to keep the champions at bay. The crowd's passionate cheers seemed to inspire Arsenal, who gradually found their rhythm.
Martinelli injected energy into the game when he came on as a substitute, becoming the catalyst for Arsenal's resurgence. His fierce strike, although directly at Ederson, marked Arsenal's first shot on target. As the match seemed destined for a draw, Martinelli's timely strike sent Emirates Stadium into wild celebrations.
Arsenal's manager, Mikel Arteta, expressed his pride in the team's performance, emphasizing the victory against a formidable opponent. "It is a great feeling," Arteta said. "We haven't defeated them in a considerable time, but I have no doubt that we've made a significant achievement today. I'm immensely proud to be a part of this team. We must continue to have faith in our abilities and what we're working towards. conquered the world's best team. I take great pride in being a part of this team, and we must continue to believe in our efforts."
Buffalo Bills' Defensive Crisis Resilience: Rising Stars Shine Amidst Injury Crisis!
With this win, Arsenal moved level on points with their North London rivals, Tottenham Hotspur, at the top of the Premier League. The victory also meant that Arsenal maintained their unbeaten record this season, a feat they hadn't achieved since the 2007-08 campaign. As for Manchester City, this defeat marked their second consecutive league loss, a situation they haven't faced since December 2018.
Looking ahead, City coach Pep Guardiola acknowledged Arsenal's achievement and looked to the future. "Congratulations to Arsenal. We've experienced two consecutive defeats, and now we're heading into the international break," Guardiola stated. "I'm optimistic that our players will return in good condition, and we'll continue our efforts. It might be beneficial to be in the chasing pack for now, allowing us to assess what needs to be done to catch up. We'll regroup and strategize upon their return.
Arsenal fans celebrated a well-deserved victory, and the team's resilience and determination were clear for all to see. As the international break approaches, both teams will regroup, but Arsenal's win will undoubtedly be a boost of confidence as they continue their journey in the Premier League