Striking for Patient Care and Fair Treatment(Kaiser Permanente Workers)
In a historic move, more than 75,000 Kaiser Permanente workers initiated a strike on Wednesday, affecting hospitals and medical centers in five states and Washington, D.C. The walkout, organized by the Coalition of Kaiser Permanente Unions, includes nurses, lab technicians, pharmacists, and various other staff members.
The strike, set to last three days, commenced at 6 a.m. local time, causing significant disruption to medical services for almost 13 million people. Although hospitals and emergency departments will remain operational, nonessential care like routine checkups will be curtailed.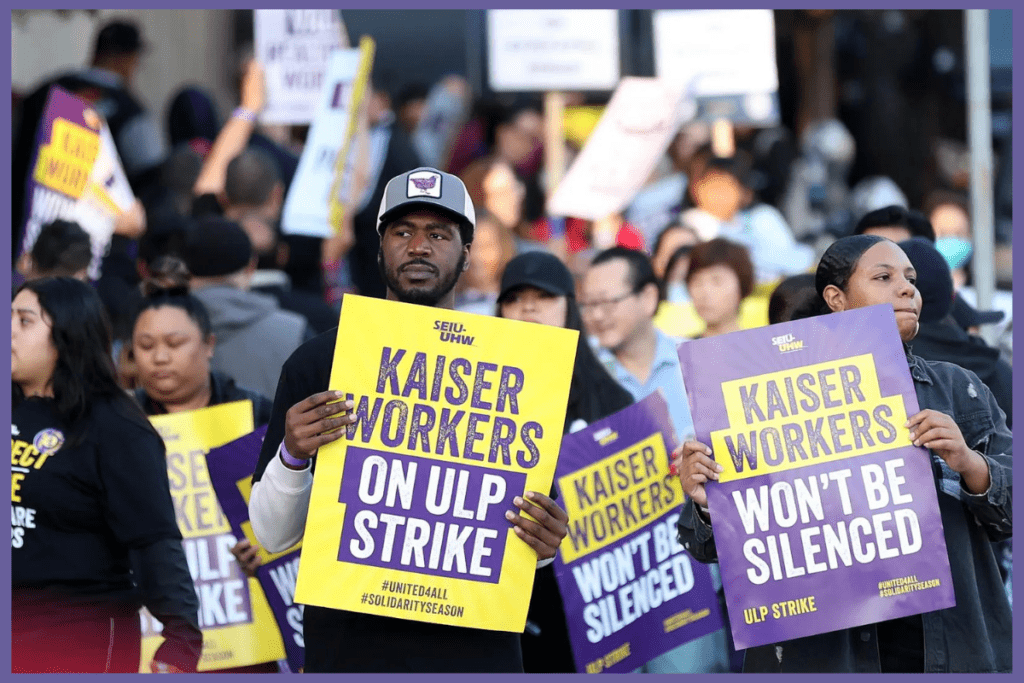 Amid chants and cheers, workers at Kaiser Permanente Los Angeles Medical Center rallied for better conditions. Brittany Everidge, a ward clerk transcriber, highlighted the issue of staffing shortages, emphasizing how pregnant women in labor often have to wait for hours due to lack of staff.
Travis Kelce Slams NFL Over Taylor Swift
The strike stems from the workers' concerns about chronic understaffing, which they claim prioritizes the company's profits over patient and staff well-being. Ultrasound technician Michael Ramey, with 27 years of experience, described the stress and heartbreak resulting from the staffing crisis. Patients, he noted, suffer due to prolonged appointment schedules and delays in receiving results, leading to a breakdown in the quality of care.
The Coalition of Kaiser Permanente Unions is not only advocating for adequate staffing but also demanding a $25 hourly minimum wage. Additionally, they are seeking annual wage increases of 7% for the first two years and 6.25% for the subsequent two years.
Kaiser Permanente, while acknowledging the need for improvements, contends it is doing its best within an industry facing a worker shortage. The ongoing strike reflects a broader trend of organized labor activities across various sectors. UAW President Shawn Fain expressed solidarity, emphasizing that the fight for fair treatment and decent wages is a collective struggle for all working individuals.
This strike serves as a powerful reminder of the challenges faced by healthcare workers and their unwavering dedication to ensuring quality patient care and fair working conditions.