## Travis Kelce Speaks Out: NFL's Swift Obsession Critiqued
Kansas City Chiefs tight end Travis Kelce expressed his thoughts on the recent surge of Taylor Swift coverage in the NFL during an episode of the "New Heights" podcast with his brother, Jason. The Grammy-winning pop star and Kelce have been making headlines due to dating rumors, amplified by Swift's appearances at two Kansas City Chiefs games. At the October 1 game against the New York Jets, Swift was spotted in the stands alongside celebrities like Blake Lively, Ryan Reynolds, Hugh Jackman, and Sophie Turner. The NFL broadcasts frequently featured Swift, prompting Jason to question Travis about the excessive coverage.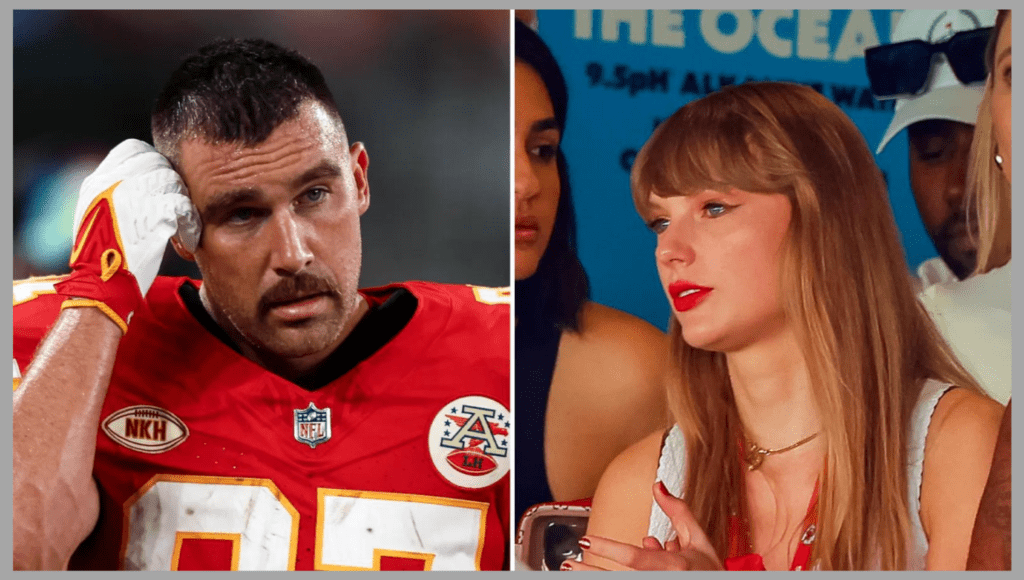 Travis acknowledged that showcasing celebrities at games adds excitement to the atmosphere but criticized the NFL for going overboard, particularly in his situation. He emphasized that celebrities attend football games to enjoy the experience, not to be constantly featured on TV. Jason compared the NFL's approach to basketball, where celebrities are shown briefly and then the focus shifts back to the game.
In response to the podcast, the NFL defended their extensive coverage of Swift and Kelce's connection. The league explained that they adapt their content based on current events and cultural trends, integrating the intersection of sports and entertainment into their coverage. The NFL emphasized that despite the attention given to Swift, the majority of their content remains centered on the game, players, and various initiatives, such as the Toy Story Funday Football alt-cast and international games.
During the Chiefs-Jets match, the coverage prominently featured Swift's attendance, with announcers welcoming Swifties to the game. "The Voice" host Carson Daly presented a video package introducing Swift fans to the NFL and providing insights into Kelce, complete with clever puns based on Swift's song titles and set to her music. After the Chiefs scored their first touchdown, the camera captured Swift celebrating with those around her.
In summary, while Travis Kelce appreciates the excitement celebrities bring to football games, he and his brother Jason criticized the NFL for excessive coverage, echoing the sentiment that a balanced focus between celebrities and the game is essential for an enjoyable viewing experience.